Leticia Polese - Content Marketing Manager
[Verano 2021] Informes de G2: seguimos liderando Audience Intelligence y crecemos en Influencer Marketing
G2 acaba de publicar los informes de verano de 2021 y, gracias a vuestros reviews y continuo apoyo, Audiense ha mantenido su liderazgo en Audience Intelligence, una categoría que con orgullo ayudamos a crear. También seguimos siendo líderes en Influencer Marketing y Social Media Analytics.
Nueva insignia en la categoría Audience Intelligence
Audiense ha recibido una nueva insignia por "Best Relationship" en Inteligencia de Audiencias, lo que significa que hemos obtenido la calificación de "relación" más alta en la categoría, basada en las puntuaciones de satisfacción de usuarios reales. "Los compradores de software pueden comparar productos en la categoría Audience Intelligence según sus puntuaciones de relationship para agilizar el proceso de compra e identificar rápidamente los productos que brindan la mejor relación con los vendedores de software en función de las experiencias de sus colegas del sector. Para vendedores, medios de comunicación, inversores y analistas, el índice proporciona un punto de referencia para comparar productos y analizar tendencias de mercado", según G2.
Como dijo nuestro CEO, Javier Burón, cuando G2 anunció los últimos informes de primavera, "liderar la categoría de Audience Intelligence nos impulsa a seguir ayudando a marketers e investigadores de mercados a ser innovadores y desarrollar estrategias relevantes centradas en las audiencias". La inteligencia de audiencias y los datos sociales hacen que la identificación de segmentos y la comprensión de su comportamiento sean rápidas y accesibles.
"Lo más importante que puedes hacer como marketer es admitir que no sabes mucho sobre tu audiencia. Una vez que superes ese obstáculo, puedes explorar varias formas de descubrir insights sobre quiénes son, qué les importa, qué les motiva y sus valores personales", afirmó Michael Brito hace algunos días. Michael es una de las primeras personas del sector que ha usado y abogado por la inteligencia de audiencias.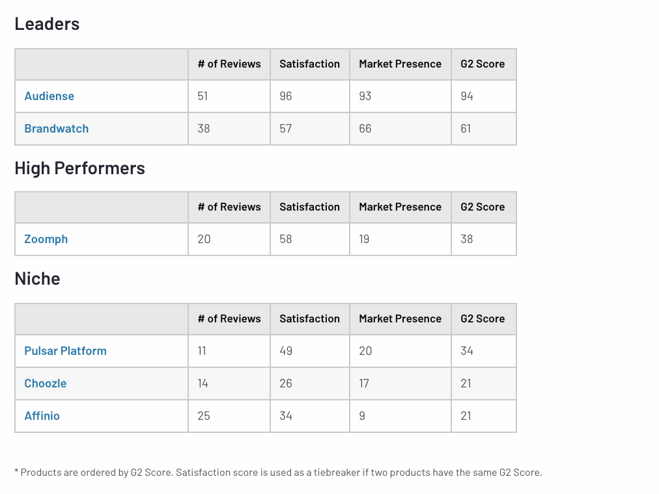 Tomando el control del Influencer Marketing
Los informes de verano 2021 de G2 nos han otorgado una nueva insignia dentro de la categoría de Influencer Marketing: "The User Most Likely to Recommend".
Además de ser líderes en esta categoría, también logramos mantener nuestra posición de liderazgo como Momentum Leader en Influencer Marketing y ser reconocidos como líderes en el Europe Regional Grid, en la misma categoría.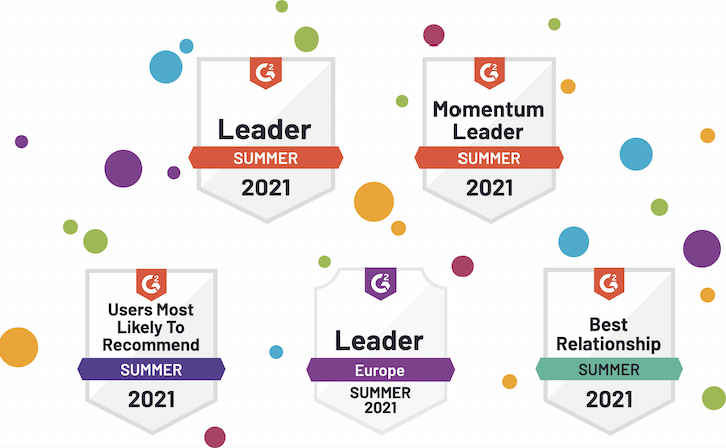 Edward James B.

Founder & Director

Small-Business

(50 or fewer emp.)

"Firstly, the team behind Audiense are absolutely focused on delivering a great product shaped by their users needs. They've not only been really open and responsive but have taken our recommendations and suggestions on board - this is what a real partnership looks like. Secondly - this level of service is reflected in the solution itself, and its our choice of social audience segmentation tool because of the range and usefulness of features."
Nathaniel H.

Chief Operating Officer

Marketing and Advertising

Small-Business

(50 or fewer emp.)

"We are finding ambassadors for the brands, banks and financial services groups we work with (using the Influencers tab on the Insights dashboard. We are identifying individuals who command attention/drive awareness on topics amongst finely vetted subject matter expert groups. We are able to really dig deep and find current thought leaders using Audiense."
Michael B.

Executive Vice President

Mid-Market

(51-1000 emp.)

"Audiense allows us to find the nuances of audiences, especially the ones that are very similar like engineers, developers, CIOs and CTOs. The platform also gives us actionable insights into these audience allowing us to understand their media consumption, sharing patterns and social media usage."
Déjanos una reseña en G2
Si eres cliente de Audiense, nos encantaría que compartieras tu experiencia con tus colegas y otros profesionales de la industria dejando un review sobre Audiense en G2. ¿Necesitas un pequeño empujón para hacerlo? Piensa que con cada reseña conseguida, hacemos una donación para el proyecto Girls Who Code en tu nombre.
Si aún no usas Audiense, puedes registrarte GRATIS y comenzar tu viaje a través de todo lo que la inteligencia de audiencias puede ofrecer a tu negocio.