Leticia Polese - Content Marketing Manager
Los informes G2 Spring 2021 ya han salido y nos mantenemos a la cabeza en Audience Intelligence
G2 acaba de publicar los informes G2 Spring 2021 y gracias a vuestras reviews y continuo apoyo Audiense mantiene su liderazgo en la recién lanzada categoría Audience Intelligence, además de seguir a la cabeza en: Influencer Marketing, Social Media Analytics y Social Media Monitoring.
"Liderar la categoría de Audience Intelligence nos impulsa a seguir ayudando a marketers e investigadores de mercados a ser innovadores y desarrollar estrategias relevantes centradas en las audiencias, conectando la segmentación social del consumidor con el resto del ecosistema tecnológico de marketing", afirma nuestro CEO, Javier Burón. También enfatiza que con el fin inminente de las cookies de terceros, las marcas tendrán un enfoque cada vez más audience-first, poniendo la creatividad y el marketing de audiencia en el centro de la estrategia.
"Para que las empresas salgan adelante y obtengan los insights más valiosos y ansiados sobre los clientes (el 'por qué'), deben ir más allá," afirma Jeremy Hollow, fundador y director ejecutivo de Listen + Learn Research, en un artículo recientemente publicado en nuestro blog: Cómo crear demanda de insights sociales. Jeremy explica que, si bien la analítica puede mapear el "qué" comparten los usuarios en redes sociales, tiene dificultades para descubrir el "por qué", y es ahí donde la inteligencia de audiencias y los social insights cualitativos llenan el vacío.


Manteniendo el liderazgo
Además de ser votados como líderes de la categoría Audience Intelligence, también hemos logrado mantener la posición de liderazgo obtenida en los dos últimos informes de otoño e invierno:
Social Media Monitoring

Audiense no sólo lidera cuatro Grids de productos, sino que también ha sido nombrada Momentum Leader en:


También hemos mantenido nuestra posición de liderazgo en el European Regional Grid para Social Media Analytics, conquistada en la edición pasada de los informes de G2.
Al recibir altas calificaciones por los usuarios de G2, hemos logrado puntuaciones sustanciales de Satisfacción y Presencia en el Mercado.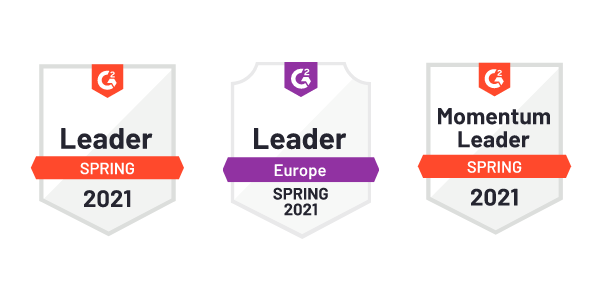 Tory S.

New England Network Weaver

Small-Business

(50 or fewer emp.)

"This software helped me identify the best influencers talking about a brand we are interested in partnering with, and identify the people talking about a conversation we care about. I was pleased and I saved myself a ton of research time that would have been based on gut and assumptions. The data I now have is exactly what we needed."
---
Cliff W.

Sr Director of Portfolio Growth Marketing

Mid-Market

(51-1000 emp.)

"I ran a campaign last year in hopes to raise $500,000 for our non profit over a 6 week campaign period. Not only did we raise $500,000 in 3 days with Audiense we ended raising over $1,000,000 dollars for our organization. I would not have been able to do this without Audiense. We also generated over 20 million impressions and many celebrities interacted with our brand during the campaign. Audiense is a truly special platform."
---
Michael L.

Insights Manager

Mid-Market

(51-1000 emp.)

"Think and try to understand how this can be integrated with your social listening platform. You must think as Audiense as a companion/partner tool to the solutions that you have already"
---
Albert T.

Director, Brand Strategy (Founder)

Mid-Market

(51-1000 emp.)

"If you're not utilizing a tool like Audiense to get an advance profile of an influencer's following, then you're a generation behind the new industry standard."
---
Déjanos una reseña en G2
Si eres cliente de Audiense, nos encantaría que compartieras tu experiencia con tus colegas y otros profesionales de la industria dejando una reseña sobre Audiense en G2. ¿Necesitas un pequeño empujón para hacerlo? Piensa que con cada reseña conseguida, hacemos una donación para el proyecto Girls Who Code en tu nombre.
Si aún no eres usuario@ de Audiense, puedes registrarte GRATIS ahora mismo y comenzar tu viaje a través de todo lo que la inteligencia de audiencias puede ofrecer a tu negocio.